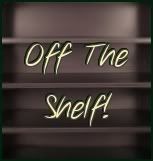 Back in November I mentioned the Off the Shelf Challenge, and told you I'd let you know which 15 books I'll be reading throughout the coming year. I'm pretty sure I'll read more than 15 books, but kept the list shorter just in case. I work full time, am editing my book, will be querying for an agent for that book, and will soon start working on the first book in my soon-to-be Urban Fantasy trilogy. I have to prioritize, right?
With being an author, I also get to be an advocate of reading, so join me in the challenge. Here are the details:
During the 2011 year, BA Reading Challenges has encouraged us to read your "To Be Read" books that are sitting on your shelf. Click on the Off the Shelf button on my sidebar to enter yourself or go to the following link to get more information:
BA Reading Challenges: Off The Shelf Challenge
The Off The Shelf Challenge runs from January 1, 2011 through December 31st, 2011. The challenge is to read books you own, but haven't read yet.
(I'm cheating a little on the challenge cause I don't own all of the books on my list. No worries though.)
The number of books you read is up to the challenge level that you choose (listed below).
Challenge Levels:
1. Tempted - choose 5 books to read
2. Trying - choose 15 books to read
3. Making a Dint - choose 30 books to read
4. On a Roll - choose 50 books to read
5. Flying Off - choose 75 books to read
For extra hard challenges:
6. Hoarder - choose 76-1 25 books to read
7. Buried - choose 126-200 books to read
My goal target is the "Trying" category, but hopefully I can try "Making a Dint" by reading more books. Here are the books I'll be reading (not necessarily in this order):
1. Three Cups of Tea by Greg Mortenson
2. The Mortal Instruments: City of Ashes by Cassandra Clare
3. The Mortal Instruments: City of Glass by Cassandra Clare
4. Dracula by Bram Stoker
5. Tara Road by Maeve Binchy
6. Great Expectations by Charles Dickens
7. Treasure Island by Robert Louis Stevenson
8. In the Woods by Tana French
9. Across the Universe by Beth Revis
10. Catch 22 by Joseph Heller
11. Veronica Decides to Die by Paulo Coelho
12. The Giver by Louis Lowry
13. The Rangers Apprentice - The Ruins of Gorlan by John Flanagan
14. Falling Under by Gwen Hayes
15. Bad Taste in Boys by Carrie Harris
I'll write a review of the books here on my blog after I finish them.
Enjoy your day and have a Happy New Year!