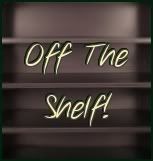 Hello, my dear followers. I found this great challenge the other day, and am dedicated to look the challenge in the eye and destroy it—figuratively speaking of course. During the 2011 year, BA Reading Challenges has encouraged us to read your "To Be Read" books that are sitting on your shelf. Click on the Off the Shelf button on my sidebar to enter yourself or go to the following link to get more information:
BA Reading Challenges: Off The Shelf Challenge


The Off The Shelf Challenge runs from January 1st through December 31st, 2011. The challenge is to read books you own, but haven't read yet. The number of books you read is up to the challenge level that you choose (listed below).
My addendum to the challenge:
If you have some books that you have always wanted to read but do not own them, then they can totally be a part of the challenge. I am going to do that so you can too.
Challenge Levels:

1. Tempted - choose 5 books to read
2. Trying - choose 15 books to read
3. Making a Dint - choose 30 books to read
4. On a Roll - choose 50 books to read
5. Flying Off - choose 75 books to read

For extra hard challenges:

6. Hoarder - choose 76-125 books to read
7. Buried - choose 126-200 books to read
I am aiming for Level 2: 15 books to read. I will post the books I am going to read at the beginning of the year and review them on my blog as I finish them.
I would love to know what challenge you choose and the books you are going to read.
Go forward and read because it is FUN. I dare you!